Carbon Brushes
Industry Leader in Products, Service, and Technical Expertise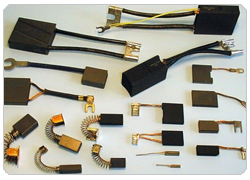 Helwig Carbon works with over 100 high quality materials to manufacture a full line of fabricated or pressed-to-size carbon brushes designed to maximize brush life and performance for any given application.

Helwig Carbon designs and manufactures many types and styles of brushes to ensure the best suited brush is available to meet the requirements of your particular application. The correct brush grade and design are very important to meet the unique operating requirements of such diverse applications.
Our experienced Engineering and Technical staff work closely with customers from concept to completion of design on new projects. They also provide technical support for troubleshooting and recommendation on existing projects. Highly trained and experienced Sales representatives are available for on site visits to assess your needs.
Industrial
Fractional Horse Power (FHP)
Slip RingPress-to-size (Molded) brushes and plates
Typical Applications
Slip Ring Brushes (An electrical slip ring is a rotary continuity device to transfer electrical power, control, and data from a stationary to rotating member. Brushes ride on the slip ring as the rotor rotates. The electrical connection to the rotor is made by connections to the brushes. We also make brushes with inserts for cleaning action to minimize the slip ring wear. Brush impregnations and treatments are also done to protect the slip ring surface from contaminated environments.)
Traction
Power Tool
Elevator
Fork Lift
Automotive
Shoes

(Carbon is an excellent material for trolley wheels and shoes because of its good wear and arc resistance. Carbon is long-lasting and does not damage power lines, therefore maintenance can be reduced.)
For over 75 years, Helwig Carbon has been an industry leader in the replacement brush market, as well as a supplier to many of the major OEMs of DC equipment. Our state-of-the art manufacturing facility allows us to quickly produce custom brushes while over 1,000 popular styles of brushes are carried in stock ready for immediate shipment. Over the past 10 years, Helwig Carbon has customized over 100,000 different brushes. Emergency custom made orders are fulfilled within a day or two.
Red Top Advantage
Helwig Carbon has pioneered innovations like the Red Top Multiflex brush for improved electrical contact, reduced brush vibration and extended spring life. The Red Top was a Helwig patented feature which has over 35 years of proven field success and has now become an industry standard.
Composite Grade Brushes
Our composite grade brushes have been very effective on lightly loaded industrial equipment and elevator applications.
Helwig Quick Disconnect & Special Features (download HQD Flyer)
Brushes can be purchased with special features like the Helwig Quick Disconnect (HQD) terminals and mounts or the Helwig Interrupter Devise (HID).
Molded Brushes (download flyer)
Our press-to-size capabilities allow us to offer cost effective alternatives on high volume applications. Complete in-house motor testing, material analysis and development allow us to help you find the right grade for your application.
Fractional Horsepower Brushes and Power Tool Brushes
All of our brushes are designed and manufactured to achieve maximum performance potential and brush life.