Technical Information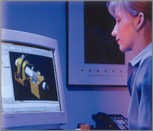 Welcome to the CPOC technical information section. CPOC has built its reputation on helping customers solve brush and commutator related problems. We have a number of resources for you to reference including technical papers, troubleshooting, and some frequently asked questions (FAQs).

The unique level of expertise and extensive experience of our technical staff leads customers to effective solutions that maximize product performance. We are available to gather necessary information on site in order to trouble shoot commutation and brush contact problems.
If you are having trouble with a particular application, feel free to contact us or call our technical service group at 519-758-1717.