Specialty Products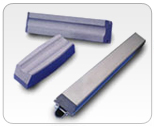 Sliding Contacts
Wherever sliding current transmission occurs, we can provide the optimal materials, components and design. This may include the graphite-based contact component, the holder, mounting hardware, contact spring, or the complete contact system. Helwig Carbon manufactures and supplies products for a variety of sliding contact applications including electric trains, trolley buses, elevators, electro-static paint systems and overhead rail systems.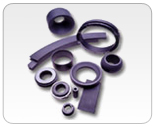 Mechanical
Helwig can manufacture mechanical carbon parts for a variety of applications including: trolley wheels, bearings, steam joints, rotary seals, throat liners, parts for pumps, graphite specialties used in the steel, aluminum, copper, glass and electronic industries. Mechanical carbon parts can be manufactured from samples, drawings or individual specifications and Helwig can match the correct carbon-graphite grade with the self-lubricating properties needed for all types of operating conditions.
In addition our specialty department also offers the following:
Silver Plating = Rack & Barrel
Ultrasonic Welding
Unique Characteristics of Carbon-graphite Materials:
self-lubrication
oxidation resistance
Sdimensional stability
chemically inert
thermal stability
low wear rate
low coefficient of thermal expansion
increased strength with increased temperature
Specialty
Silver Plating
Helwig Carbon Products, Inc. provides silver-plating surface finishes in both rack and barrel techniques.
Rack Plating
Individual parts are silver plated for product finishing requirements
Allows for customized plating requirements
Careful handling of delicate parts
Faster throughput and quick turnaround times
Barrel Plating
Bulk processing and economical
Inspection
Helwig Carbon Products, Inc. is able to perform quick and easy to use thickness tests with precision.
Membership
American Electroplaters and Surface Finishers Society (AESF) American Society for Quality (ASQ)
Environmental Awards
Along with their commitment to providing quality products, Helwig Carbon Products, Inc. is committed to preserving the environment. The Milwaukee Journal Sentinel named Helwig Carbon with Significant Industrial User Honor Roll for 2001 & 2002. In addition, the Milwaukee Metropolitan Sewerage District honored Helwig Carbon Products, Inc. for their efforts to protect the environment while contributing to the economic viability of the region.
Mission
Our normal turnaround time is 24-48 hours. Same day service is available in the event of an emergency. Three integral parts provide the framework for the Helwig Carbon mission:
Excellent Quality
Responsiveness to our customers
Competitive pricing
Ultrasonic Welding Capability
The 20 kHz Welding System is rugged and easily tooled for a wide range of nonferrous welding applications.
Ultrasonic Splicing Capability
The process of ultrasonic splicing is identical to ultrasonic welding. Splicing is usually referred to as the joining of different wires. However, solidifying the end of one wire is also referred to as splicing.
The system will automatically sequence to produce all splice requirements between 0.7 and 28 sq. mm. in cross section.
Tool Design Capability
The Helwig Carbon design department can create tools for a variety of applications.
Certified Welders
Our welders are well trained and qualified.
Ultrasonic Welding
Why use ultrasonic welding when so many other techniques such as resistance welding, laser welding, oven brazing and soldering exist? The answer is that ultrasonic metal welding does in one operation what these other processes need several steps to accomplish. It also eliminates consumables, does not require pre-weld preparation or post-weld cleaning, uses very little energy (1/30 that of a fusion welder), uses no hazardous chemicals, generates no noxious fumes and can be very precisely controlled and monitored to ensure consistent high quality results.
It is a low temperature process. Typically, the frictional heat generated does not raise the temperature of the parts beyond approximately one third of their melt temperature. Since little heat is generated, cooling water for tooling is not required and there is no melting or annealing of parts being joined. Operators can often handle parts immediately after welding. This low temperature characteristic is very important when welding Copper to Aluminum. Fusion welding creates a non-conducting, brittle, intermetallic compound that reduces the ductility of the Copper/Aluminum bond. As the molten metals mix and approach an alloy of 12% Copper, an alloy is formed that is too brittle for most applications. Since the ultrasonic welding process does not cause melting, these intermetallics and brittle alloys are not formed when joining these materials. The metallurgical makeup of the copper wire used in the manufacturing of electrical harnesses is a very different to resistance spot welding due to the presence of electrolytic tough pitch copper, often present in the wires to be joined. When heated in a reducing atmosphere, the oxygen content in the copper may cause embrittlement and therefore, may threaten the integrity of the connection. Furthermore, the copper wire used in wire harnesses is very conductive and extraordinarily high electrical currents are needed to generate sufficient heat in the wire to effect a melt. Oxides and contaminants on the wires, as well as electrode wear, will drastically change the resistance of the assembly and the amount of heat produced. When too much heat is generated during a resistance weld cycle, the assembly can be damaged, making it possible for extreme variations between parts depending on the amount of oxides or contaminants that were present on the wires prior to welding.
Quality
True metallurgical bond
Highest conductivity connection
Eliminates corrosion
Unaffected by vibration
Welds through most oxides and surface soils
Process Control
All process variables are dynamically controlled
Weld time
PowerEnergy
Aplications
Copper wire connections to any type of terminals
Wire connections to bolts
Splices in Automotive Wire Harnesses
Termination of heavy gauge wires
Multiple wire terminations
Total elimination of terminal